Daily Industrial Automation News and Tips:
Today we're covering news about 3D Sensors, IEC 61850, Condition Monitoring, Dual Booting, ITOps, Saving Energy, Python on PLCs, HDMI vs DP, and more in our Automation This Morning blog for Thursday, February 16, 2023.
First up is a new product announcement here from Banner about their ZMX Series 3D Time Of Flight Sensor which can measure and monitor objects within a three-dimensional area.

Next up is the latest update of Inductive's Ignition product here. New features include IEC 61850 and RS-485 support, as well as Custom Right Click menus and One Shot buttons with Disabled States.

Over on the Grace Engineering website here we have their latest mid-week blog, this one covering different advantages of using condition monitoring products like those in their GraceSense line.

OnLogix has a new blog here which does a great job of walking readers through how to setup their PC to dual boot between Windows 11 and Linux.

And Global American has a new blog here discussing the differences between HDMI and DisplayPort.

On the WWT website today I found two new articles of interest. The first here explains ITops, DevOPs and Agile Software Development. The Second here discusses the steps you should take to insure a successful hypervisor installation.

And the final article for today is one from AspenTech here detailing the concrete steps they help customers take to substantially reduce their energy bills.

In our product spotlight today is The Automation School's S7 PLC Online Course. Designed for those with some existing PLC experience who'd like to get up to speed on the S7-1200 and S7-1500, like all their courses it comes with lifetime access and support.

On the digital newsstand today we have a new newsletter here from RTA, and this one lives up to it's name for being pretty "darn" good!

Today we also have two new audio video files. The first here is the second in a series of videos from Opto22, this one covering the use of Python with their groove products.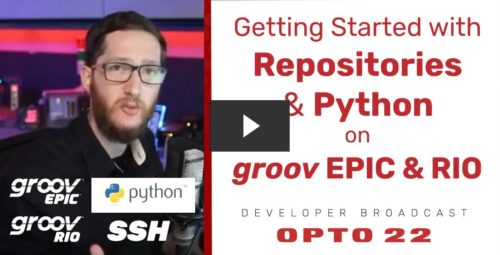 The other video file for today is a new episode of The Automation Podcast here in which our guest brings us up to speed on what's new in CNC Automation.

In our "what's coming up" segment we're featuring a new episode of Automation Tech Tips releasing at 3:30pm ET here which covers what to do if the RSLinx Classic Ethernet/IP driver won't find your device.

And that wraps up today's edition of Automation This Morning! If you'd like to watch or listen to the companion edition of the Automation Morning Show, you can do so using one of the links at the bottom of this post (the audio and video editions are typically released an hour after this article is published.)
If you think we missed something, or just want to share a news tip, please do so using this link.
Vendors who'd like to sponsor our show can learn about the options we offer, as well as contact us directly, using this link.
---
Watch the show:
---
Podcast (morningshow): Play in new window | Download
---
Automation This Morning and the Automation Morning Show Notes:
Thanks to everyone who read, watched, or listened today!
If you'd like to join our community and support our work, you can do so for the price of a cup of coffee each month at Automation.Locals.com.
Huge thanks to all our supporters there!
---
Vendors: Would you like your product featured in our product spotlight? If you would, contact us directly at: https://theautomationblog.com/contact
Until next time, Peace ✌️ 
Shawn M Tierney
Technology Enthusiast & Content Creator
Have a question? Join my community of automation professionals and take part in the discussion! You'll also find my PLC, HMI, and SCADA courses at TheAutomationSchool.com.