---
I've been a huge Sci-Fi fan since at least 1977 when one of the most iconic Sci-Fi films of all time was released.
In the spirit of that movie (and automation geek-dom,) today I'm announcing the addition of a new Sci-Fi collection to our line of T-Shirts: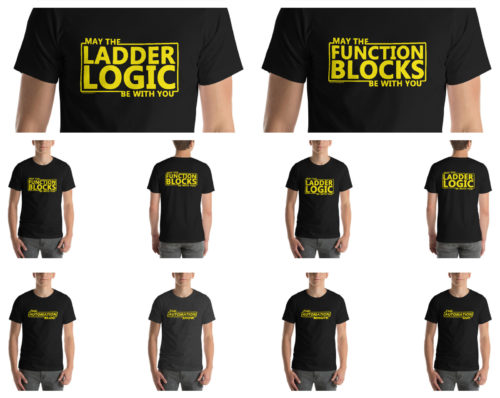 Each of these T-Shirts come in multiple colors (not just black 😉, and also come in one of two different print styles:
– Large Front Logo ($18)
– Small Front Logo and Large Rear Logo ($24)
If you'd like to find out more about these new shirts, check them out in our shop here.
And if you have any thoughts or suggestions, please let me know them as a reply to this post 🙂
Until next time, Peace ✌️ 
Shawn M Tierney
Technology Enthusiast & Content Creator
Have a question? Join my community of automation professionals and take part in the discussion! You'll also find my PLC, HMI, and SCADA courses at TheAutomationSchool.com.
Latest posts by Shawn Tierney
(see all)