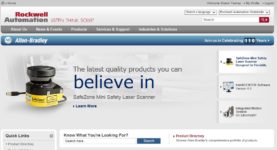 Almost daily I'm asked about Rockwell Software (RS) and Allen-Bradley (A-B) software support for Windows 7.
While I haven't memorized the list, the good news is Rockwell has put together an easy to use compatibility website which makes finding operating system support for it's software a breeze.
Note: You can watch a video on using Rockwell's compatibility website in our companion video blog HERE.
In a typically scenario, an Engineer or Maintenance Electrician is told he will be getting a new laptop. Hopefully his company has the foresight to provide him with Windows 7 Pro, and not Windows 7 Home which is not licensed for commercial use. It's also assumed his company is not ready to move to Windows 8 which, because of Microsoft's lack of backward compatibility for certain services, is not yet supported by many (if any) Rockwell products.
The first step the Engineer or Electrician should take is to inventory what software from A-B and RS he currently uses. In our example, we'll assume our company man uses the following products:
RSLogix5
RSLogix500
RSLogix5000
PanelBuilder32
ViewStudioME
With the above list in mind, our second step is to head over to AB.com and click on the "product compatibility and download center" link (about halfway down on the left side of the page as shown in the below picture:)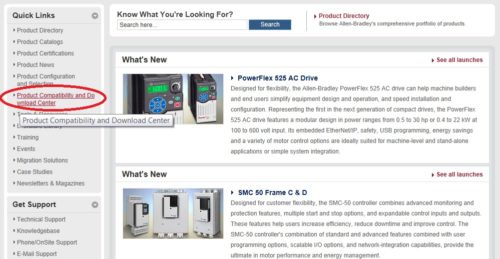 Next, click on "multi product compare:"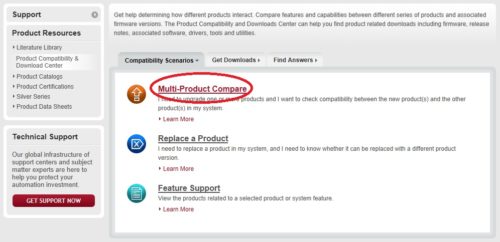 Once that page comes up, type "RSLogix 5" into the product search box as shown below: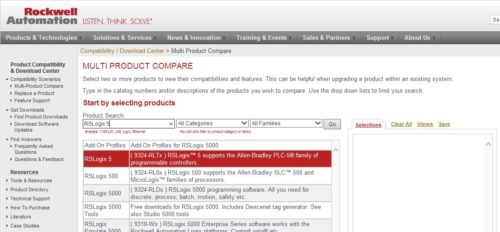 You should now see a list of "RSLogix" products displayed under the search box. Click on RSLogix 5, and then click on the latest version (in our example we would like to know if the newest release supports Windows 7:)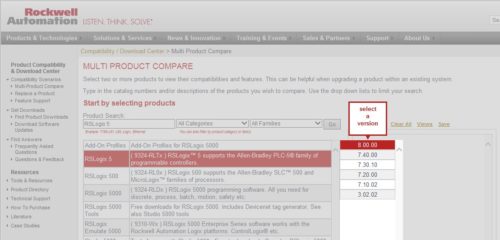 Repeat the above steps for your remaining software. When done, you should have a list like the one circled below:

Now click the "compare selections" button on the bottom right of the page, and then expand the "Operating Systems, Windows 7" category. You will see a green circle with a checkbox for every version of Windows 7 the package is supported on: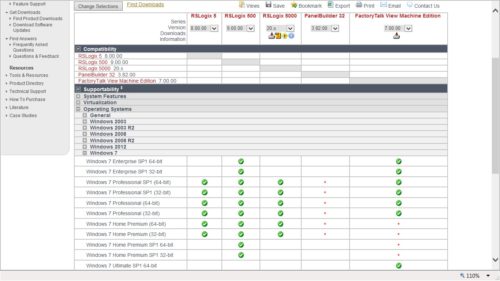 In our scenario, all the latest packages of our selected products do have native Windows 7 support, with the exception of PanelBuilder 32. However, this doesn't mean it absolutely won't work, but does typically mean Rockwell Tech Support will not support this product on Windows 7 do to either (a) known issues, or (b) lack of testing by the product group.
In those cases that a product is not supported by Windows 7, you can still use the product inside a virtualized system, utilizing either "XP Mode" (free Microsoft download for Windows 7 Pro users,) or VMware Workstation available from VMware.com for $250.00. Both of these virtualization packages are supported by Rockwell products per Rockwell's public tech notes listed below:
I hope you've found the above information about Windows 7 support from Rockwell Automation helpful. If you have any questions or would like to comment on the above article please feel free to click on the "post a comment or question" link below.
Until next time, Peace ✌️ 
Shawn M Tierney
Technology Enthusiast & Content Creator
Have a question? Join my community of automation professionals and take part in the discussion! You'll also find my PLC, HMI, and SCADA courses at TheAutomationSchool.com.
Latest posts by Shawn Tierney
(see all)