3D printing is the latest in a long line of technologies and innovations that have transformed and evolved the manufacturing industry. As 3D printing technology and materials have advanced, the process has expanded its footprint from primarily a prototyping technique to one that now has applications in every stage of product development and production.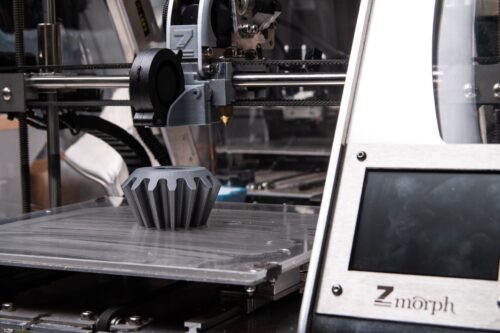 Uses of 3D Printing in the Product Development Process
Additive manufacturing technology has been available for decades, and was almost exclusively used for rapid prototyping applications. As the technology matured, offering higher quality and accessible pricing, it not only became more commonly used across the industry, it also expanded the potential use cases that it offers. These include:
Early-stage proof of concept:
In the initial stages of product development and ideation, the closest you could get to a high-quality 3D model has historically been a CAD drawing. It wasn't until later in the process that you would have a real-world, tactile representation of the product.
3D printing has changed this, allowing fast and easy access to proof-of-concept modeling, providing early insight into the manufacturability, functionality and viability of the idea — key considerations in moving forward with a concept. Providing these insights earlier in the process allows for more time to fine-tune — improving quality and efficiency through all subsequent steps of design and development.
Prototyping:
Historically, the most common use of 3D printing, 3D prototyping today is more effective than ever. The advent of desktop 3D printers allows design and development personnel to create functional prototypes in-house, reducing costs, increasing speed and agility, and creating a more focused development process overall.
3D prototyping also allows for more iterations to be created at lower costs, improving quality and fostering innovation.
Production:
As 3D printing technology has improved, so have the materials used in the process. Today, 3D printing is capable of efficiently manufacturing production-quality parts for short runs. These advances have proven invaluable for startups, companies testing new products and markets, and any other scenario where short-run parts are required.
Applications of 3D Printing in Industry
In this section, we'll examine some product- and industry-focused use cases of 3D printing in manufacturing. The below examples are ways that leading companies have used 3D printing for production-quality parts in the field:
Aerospace:
The plastic materials used in 3D printing have proven valuable in reducing the weight of components while providing the required strength and stability — key considerations in aerospace. Applications include air ducts, hinges, nozzles, panels, interior components and more. 3D printing is also excellent for quickly creating replacement parts and components, reducing turnaround times, and benefitting inventory management.
Automotive:
Much like the aerospace industry, automotive applications benefit by the lower weight that 3D-printed components can often provide, improving fuel efficiency and overall performance. Automotive applications include gear sticks, safety gloves, brackets, engine covers, interior structures such as seats and more. 3D printing is especially well-suited for luxury vehicle applications where fewer quantities are required. Though major manufacturers have used the process for longer production runs, as well.
Medical:
The ability of 3D printing to create highly intricate, detailed designs with tight tolerances has proven well-suited to the medical industry. In addition, as more biocompatible materials have been developed for use in 3D printing, use cases have expanded. 3D printing applications in the medical field include surgical instruments for use in highly specialized surgeries, prosthetics and implants, dentures, medical devices such as catheters, hearing aids, dental uses such as dentures and aligners, and more.
---
As you can see, 3D printing has come a long way from its origins as a prototyping tool. It continues to evolve. As it does, it is improving and advancing manufacturing as a whole.
For full details on more use cases, and the companies that have relied on 3D printing, see the accompanying infographic.
---
Written by Kevin Allison
VP of Marketing for Crescent Industries


Have a question? Join our community of pros to take part in the discussion! You'll also find all of our automation courses at TheAutomationSchool.com.
Sponsor and Advertise: Get your product or service in front of our 75K followers while also supporting independent automation journalism by sponsoring or advertising with us! Learn more in our Media Guide here, or contact us using this form.
Latest posts by Kevin Allison
(see all)