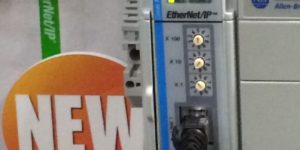 Mid-morning of the first day of Automation Fair 2013, I had the fortune of participating in a show floor meeting with Dexter Long, the CompactLogix product manager for Rockwell Automation. The meeting was to discuss the newly announced (and long desired) 1769-AENTR. As the part number implies, this is an Ethernet/IP adapter for the 1769 line of I/O modules.
Note: You can listen to our companion podcast about the 1769-AENTR HERE.
On the front of the unit you can see the reason for the trailing "R" in the part number: dual Ethernet/IP ports. These ports make up a two port Device Level Ring (DLR) switch sharing a single IP address. Also on the front of the unit you'll notice three rotary switches for setting the IP address manually, similar to other A-B Ethernet devices.
According to Dexter, the unit supports all A-B 1769 I/O modules. He also mentioned that Rockwell has also successfully tested several encompass partner 1769 products as well.
Unlike the unfortunate launch of the 1747-AENTR, this unit is being launched with support for the largest 1769 I/O systems: thirty I/O modules across three I/O banks.  The unit also comes with an Add-On profile with support for version 20 and 21 of RSLogix 5000.
One important note that came out of our meeting is that the 1769-AENTR does not support rack optimized I/O. This seems to imply that each module will require it's own connection. This is not an issue for the connection rich 5370 multi-core CompactLogix processors (L1xER, L2xER, L3xER.) But, owners of the older connection limited processors (L23E, L32E, L35E) need to take note: with their limited connection count you could easily run out of connections with even a medium sized 1769-AENTR system.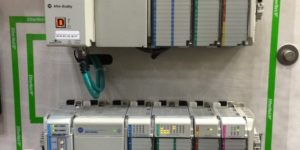 The 1769-AENTR is expected to ship this January (2014) and come at a list price of $980. While more expensive that a similar Point I/O adapter (the 1734-AENTR) it is less than the aforementioned 1747-AENTR, and substantially less than purchasing a 1769 Ethernet/IP Processor.
Well that's it for my impressions of the 1769-AENTR. at Automation Fair 2013. Check back in he coming days for more impressions of products from this years show. In the mean time, if you have any comments or questions please feel free to use the "post a comment or question" comment section at the bottom of this page.
Update: You can hear Shawn's thoughts on the 1769-AENTR in Episode 2 of "The Automation Podcast" HERE
Until next time, Peace ✌️ 
Shawn M Tierney
Technology Enthusiast & Content Creator
Have a question? Join my community of automation professionals and take part in the discussion! You'll also find my PLC, HMI, and SCADA courses at TheAutomationSchool.com.