Last week a client sent me his RSLogix 5000 v16 file to review.
It was a slow week, and I honestly didn't expect looking over his files would take more than an hour or so. Boy was I wrong!
Because the client sent me an older v16 file, I fired up my Windows XP VMware virtual machine on which I have several RSLogix 5000 versions installed. Once booted, I used the shared folders feature to copy the clients files to my virtual desktop and proceeded to open his ACD file.
And this is where things started to go wrong. After the RSLogix 5000 splash screen appeared, I received a notice from RSLogix 5000 saying it couldn't find my FactoryTalk Activation (FTA.) I thought this odd as I knew everything was working just a few days ago…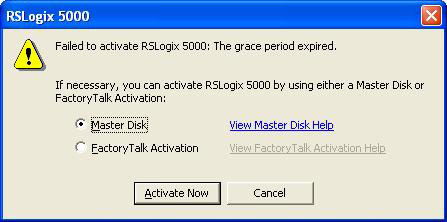 Occasionally this error has appeared in the past, and the first thing I checked was to be sure the FactoryTalk Activation Manger on my virtual machine was finding the activations installed on my "host" system. If it hadn't, I would then need to troubleshoot my VM's network.
Since the FTA Manager did find my activations, the next thing I checked was the time in my VM's OS. I had previously disabled time syncing on some of my VM's, and later found if the time difference between the FTA client and server was more than a few minutes Rockwell applications would not activate (even though the activations would continue to show up in the FTA manager.) But in this case my VM and Host times were in sync.
Knowing I had just been working on a v20 application earlier in the week, I found that project file and double clicked it. Unfortunately, using the RSLogix 5000 shortcut will only open RSLogix 5000 in the last version used. In this case that was now version 16, which wouldn't let me past the activation screen. So the only quick way (I know of) to open any other version and bypass the activation popup was to launch RSLogix 5000 by double clicking on a different version ACD project file.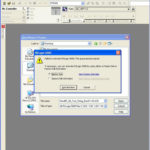 As I expected, v20 launched with no issue. And since my first two steps indicated my FTA was working fine, I next tested creating new RSLogix 5000 files in the other versions I had installed. All worked except for version 16.
Having isolated the problem to v16, I headed to Rockwell's Knowledge Base and began searching for a solution. I searched, and searched. I tried many different keyword combinations, but none of the results were of any help.
Frustrated, I tried upgrading from v16.03 t0 16.04 to see the newer minor rev. would resolve the issue, but it didn't. I then uninstalled and reinstalled v20.01 thinking v16 might have overwritten some important newer files, but this also didn't resolve the issue.
Out of ideas, and a few hours lost to trial and error, I finally reached for the phone and called Rockwell Tech Support. However, following the universal "Murphy's law," Rockwell's phone support had the day off!
Before giving up, I made one last attempt at finding my answer on Rockwell's Knowledgebase. I decided to simplify my search as much as possible, using only two keywords in my search criteria:  "16" and "activation." Like clouds parting in the sky to let rays of light through, there at the very top of the search results was (public) Tech Note 525076, which directly address the issue I was having.
The Tech Note explains that when RSLogix 5000 version 16 won't activate while other versions do, the simple fix is to copy the "rsl5kcp.dll" file from the v17 program folder (C:\Program Files\Rockwell Software\RSLogix 5000\ENU\v17\Bin) to the v16 program folder (C:\Program Files\Rockwell Software\RSLogix 5000\ENU\v16\Bin) overwriting the v16 version of that file with the v17 version. Doing this immediately fixed my v16 activation issue.
Hopefully if you're running into the same issue and struggled like me to find the correct knowbase doc, this blog will help you in find it quicker than search the knowbase directly.
And if you have questions or have run into the same issue please feel free to share you comments with us by using the "post a comment or question" link below.
Until next time, Peace ✌️ 
Shawn M Tierney
Technology Enthusiast & Content Creator
Have a question? Join my community of automation professionals and take part in the discussion! You'll also find my PLC, HMI, and SCADA courses at TheAutomationSchool.com.
Latest posts by Shawn Tierney
(see all)