Recently, I was working on updates for my PLC courses at TheAutomationSchool.com when I ran into an issue downloading the free versions of RSLogix Micro Lite, RSLinx Classic, and RSEmulate 500.
After blogging about the latest procedure to download the free RSLogix software here, I then attempted to install the software when I ran into a new problem: Error 1723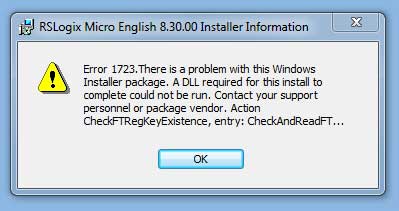 As you can see above, Error 1723 states: "There is a problem with this Windows Installer package. A DLL required for this install to complete could not be run."
And the DLL in question appears to be CheckFTRegKeyExistence, but after searching all the DLLs and files, I couldn't find what was missing.
At this point I took a step back, and thought about what was different this time as opposed to the last time I installed RSLogix Micro Starter Lite version 8.3.
I was updating course files using older versions of the software since the feedback students have given me over the years has been that many of them don't have access to the latest and greatest releases.
But unlike previous "clean" installs, this time I was adding RSLogix Micro Lite to a VMware Image which already had FactoryTalk View Studio 8.0 and RSLinx Linx Lite version 3.70.
So on a hunch I decided to uninstall the RSLinx Classic Lite version (3.7) that comes with ViewStudio 8.0, and install the free RSLinx Classic Lite version 2.57 that comes with RSLogix Micro Starter Lite 8.3.
And once that older version RSLinx Classic Lite was installed, I was able to install RSLogix Micro Starter Lite version 8.3 without any issues.
I even went as far as uninstalling RSLinx Classic Lite 2.54 and re-installing version 3.7 to be sure RSLogix Micro Lite and RSEmulate continued to work with the newer version of RSLinx.
That being said, I'm not sure if there is an easier way to get around this issue, so if you've run into this issue and found a different workaround I'd love to know about it!
You can share your thoughts or questions with us by clicking on the "post a comment or question" link below.
Until next time, Peace ✌️ 
Shawn M Tierney
Technology Enthusiast & Content Creator
Have a question? Join my community of automation professionals and take part in the discussion! You'll also find my PLC, HMI, and SCADA courses at TheAutomationSchool.com.
If you found this content helpful, consider buying me a coffee here.