Article Updated November 2017: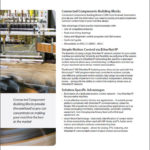 Rockwell's Connected Components Building Blocks (or CCBB for short) is quite possibly the best kept secrete on AB.com.

In an apparent effort to answer the long standing call for sample code, Rockwell launched the CCBB initiative years ago. And in my experience, I have to say they did a very good job.

Each of the 20 plus "building blocks" are designed around "component" level devices. Specifically, MicroLogix PLC's, PanelView Component HMI's, along with various other devices including PowerFlex 4 class drives, A-B Temperature controllers, and RightSight color sensors.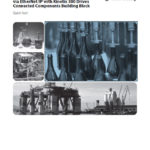 However, these building blocks aren't just sample code. Each CCBB includes:
Color application profile
"Quick start" manual
Bill of materials in ProposalWorks and MSExcel
One or more fully documented RSLogix MicroLogix programs
One or more PanelView Component HMI programs
Panel Layout and Wiring Diagrams in DWG, DXF, and PDF
And the best part is, all twenty plus CCBB's, including all of the above deliverables, are available completely free at the below url:
Update 06/17: Rockwell's frequent website updates make it difficult to link to many popular downloads, however at the time of this update the below link will take you to the CCBB downloads page: (still valid as of 11/06/2017)
Update 11/06/17: Many of the Building Blocks can also be downloaded individually from Rockwell's sample code website using the below link:
Here's a summary of the CCBB's you'll find there: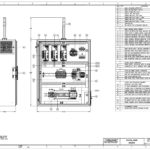 Standard Drives Building Blocks
Simple Speed Control

Simple Position Control

Simple Position Control via HMI

Pump Control
Motion Control Building Blocks
Simple Motion Control via EtherNet/IP with Kinetix 300 Drives:

Simple Motion Control via PTO:
Other Building Blocks
Error Proofing Building Blocks
MultiSight Inspection Solution:

Simple RGB Color Sensing:

Simple Taught Color Sensing:

Simple Package Measurement:

Simple Inspection Using MultiSight Sensors:
Machine Safety Using Safety Relay Building Blocks
Simple Safe Speed:

E-Stop and Gate Switch String:

Single Direction Light Curtain Muting:

Bidirectional Light Curtain Muting:

Bidirectional Light Curtain Muting with 3rd Enable:
Energy Management Building Blocks
Plant Power Metering System:

Base Powermonitor 1000 System:

W.A.G.E.S. Energy Management System:

Capacitor Bank Solution System:
I hope the above information about Rockwell's Connected Components Building Blocks is helpful.
If you've used Rockwell's CCBB's before, or have a comment or question about them, please don't hesitate to leave them with us by using the "post a comment or question" link below.
Until next time, Peace ✌️ 
Shawn M Tierney
Technology Enthusiast & Content Creator
Have a question? Join my community of automation professionals and take part in the discussion! You'll also find my PLC, HMI, and SCADA courses at TheAutomationSchool.com.