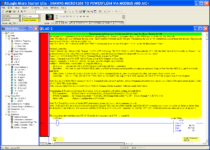 This second program is based on the first, but uses the Modbus Master protocol available in the latest release of the MicroLogix 1200, as well as a 1761-Net-AIC.
The biggest obstacle in getting this configuration to work was trying to find the polarity of the comm lines (i.e. does + comm on the AIC go to A or B comm on the drive?) as well as realizing all the modbus addresses are offset by 1 (which even Rockwell Drives Div. missed in Rev 1 of the subsequently release tech note).
Since this file was published, Rockwell has release (and fixed) a tech note, and also has an excellent 2004 HOT LAB.
Requirements:
RSLogix 500 Version: 6.1
Additional Requirements: Micro1200 & PowerFlex 4 /40
File Size: 60 kb
Uploaded on: 02/09/04
Entered By: Shawn Michael Tierney
Download Link:
Sincerely,
Shawn Tierney
Automation Instructor and Blogger

If you enjoyed my article, you may like my courses at TheAutomationSchool.com
Eliminate Ads and get Free Downloads by becoming a Patron here
Have a news tip? Share it with us here
Shawn began sharing automation news and know-how online in 1996 when he launched his first BBS. Then in 1999 he moved to the internet launching ShawnMichael.com, which he later renamed ShawnMTierney.com. In 2013 he moved his automation efforts to a new website, TheAutomationBlog.com, which has since become the most popular independent industrial automation blog on the web.
Latest posts by Shawn Tierney (see all)
Click HERE to scroll down to view or leave comments
Note: This article was previously posted on the author's original websites, www.ShawnMichael.com and www.ShawnMTierney.com
Forum Comments:
---
Shawn,
I have a project with 5 powerflex 4m controlled by a micrologix PLC via modbus.
I am able to control and monitor the powerflex with no problem but would like to be able to monitor drive temperature, adjust ramp speeds and min max speeds as well.
Using info from the AB website and others, I have tried to read the info I want but have not been successful.
Hoping you can point me in the right direction. If you can get me started I think I can work everything out.
JAQ

Good afternoon ,
So you're using MicroLogix with the 4m and Modbus? Last time I ran into an issue doing this is was that the address was off by 1 as some modbus devices are 0 based, and some are 1 based.
Did you try the code in the PF4 book I mention in the article?
Shawn Tierney,
Automation Instructor at TheAutomationSchool.com

I am aware of the address offset and have taken that into account. Figured that one out by trial and error a while back.
I am not able to access the article mentioned. I get a page referring to maintenance mode.
I have looked through the powerflex 4 and 4M manuals and think I am following the instructions correctly.
The good thing is the job is close and the project is an internal one for maintenance purposes for my own use.
Going to the site later this week or the first of next week to do some further testing on this issue.
JAQ

I should probably also mention this is from 2004 😉