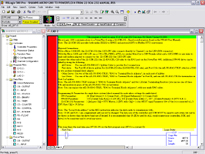 This first program is based on the example in the appendix of the 22-SCM-232 Manual.
After unsuccessfully attempting to get an electronic copy from Rockwell Drives Tech Support, I broke down and typed in all the ladder and comments myself.
Once setup and testing was completed I added additional comments to the first run.
Requirements:
RSLogix 500 Version: 6.1
Additional Requirements: Micro1200 & PowerFlex 4 / 40
File Size: 61 kb
Uploaded on: 02/09/04
Entered By: Shawn Michael Tierney
Download Link:
Sincerely,
Shawn Tierney
Automation Instructor and Blogger
Have a question or comment on this article? Join our community to take part in the discussion! You'll also find all of my courses at TheAutomationSchool.com. (169 views)
Latest posts by Shawn Tierney
(see all)
Note: This article was previously posted on the author's original websites, www.ShawnMichael.com and www.ShawnMTierney.com