---
In today's edition of "Insight's Inbox" we answer a reader's question on how to work around the RSLogix 5000 MSXML install issue.
---
Reader Question:

I'm trying to install RSLogix 5000 20.03 onto a Windows XP VMware image and the installation stops telling me it can install MSXML4? Is there anyway around this?
Insight's Answer:
In my own experience, some versions of RSLogix 5000 have issues installing some components from a network drive, specifically the ones used by VMware.
When I attempted to install RSLogix 5000 v20.03 onto a Windows 7 Pro 32bit VM I recently created, I received an error stating that it could not and to check the install log.
In the install log I found this error:
RSLogix 5000 Setup: Begin MSXML4 installation
RSLogix 5000 Setup: End MSXML4 installation 3: The system cannot find the path specified.
RSLogix 5000 Setup: End loading step: Checking MSXML version
RSLogix 5000 Setup: An error occurred during loading
---
Suspecting an issue with the remote path, I searched the install DVD and found "msxml.msi" in the "x:RSLogix5000System" directory.
I went ahead ran the file manually, and it installed without issue.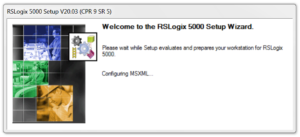 Then when I attempted to install RSLogix 5000 v20.03 again, it did indeed install without any more problems.
I then installed v20.01 and v20.04 in there own VM's and neither of them had this same issue, so it may be unique to version 20.03?
Side Note: Version 20.04  and Online Books
On a side note, while RSLogix 20.04 was installing it could not find the online books install file.
And no matter where I located that file, even locally in the VM, still could not find it.
So when the RSLogix 5000 install was finished, I just manually ran the "RSLogix%205000%20Online%20Books.msi" file and it seemed to install the online books without issue.
---
I hope you've found today's Insight's Inbox about working around the "msxml" install issue helpful.
If you have any comments, questions, or suggestions, please feel free to share them with us using the "post a comment or question" link below.
Update: If you have your own question you'd like to ask, please post it as a comment on a related post here at TheAutomationBlog.com
Until next time, Peace ✌️ 
Shawn M Tierney
Technology Enthusiast & Content Creator
Have a question? Join my community of automation professionals and take part in the discussion! You'll also find my PLC, HMI, and SCADA courses at TheAutomationSchool.com.
Latest posts by Shawn Tierney
(see all)