Description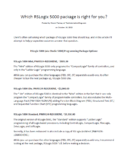 This is an "ad free" PDF of The Automation Blog article, "Which RSLogix 5000 package is right for you" which can be viewed for free at TheAutomationBlog.com.
Note: While there are no refunds for this item, if you have any issues downloading it after purchase please contact us here.
The article itself is 2 pages in length, with additional pages added to hold full size images from the article.
Article Details:
File Name: TAB Which RSLogix 5000 package is right for you by ST
File Type: ZIP containing PDF Document
Created By: Shawn Tierney
Article Pages: 2
Additional Graphic Pages: 2
Other requirements: None