Description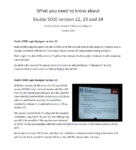 This is an "ad free" PDF of The Automation Blog article, "What you need to know about Studio 5000 versions 22, 23, and 24" which can be viewed for free at TheAutomationBlog.com.
Note: While there are no refunds for this item, if you have any issues downloading it after purchase please contact us here.
The article itself is 2 pages in length, with additional pages added to hold full size images from the article.
Article Details:
File Name: TAB What you need to know about Studio 5000 versions 22, 23, and 24 by ST
File Type: ZIP containing PDF Document
Created By: Shawn Tierney
Article Pages: 2
Additional Graphic Pages: 1
Other requirements: None