---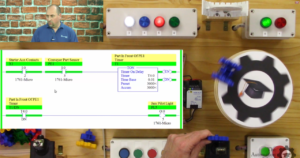 So you may be asking yourself, "where's Shawn been?" as the updates to my blogs, videos, and podcasts have been a little sporadic.
Well, for the last several weeks I've been focusing on remaking my two year old PLC Basics video course, and I'm happy to announce I'm nearing completion of the filming stage!
And as I start thinking ahead to post production and retailing, I've been thinking about potential re-sellers discounts and customer bonuses, and I'll discuss my thoughts on those in more detail tomorrow.
Why I'm making a new version
The original course, titled "Micro Programmable Controller Basics," was my first video training course which I recorded in 2014 after a successful Kickstarter campaign.
There was a much larger learning curve to create a video course than I thought, and because of that I didn't actually released the course on DVD until January of 2015.
Since then, hundreds of students from over 45 countries have purchased the course, and it currently maintains a 4.5 out of 5 star rating.
However, as it was my very first course, and I've had nearly two years to reflect on both it and student feedback, there were several things about the course I wanted to change.
So earlier this year I began pre-production of an updated version, and I'm glad to say I'm in the process of filming the final lessons this week.
What's next
Since I'm self employed and much of my revenue comes from selling my courses, my immediate goal is to focus on increasing sales of my existing PLC and PanelView Plus courses, as well as creating several new PLC and HMI courses.
However, I'm also considering the idea of releasing the next few courses as shorter, less expensive digital courses, and expanding them over time base on student feedback and popularity.
I'll also soon be writing about the expansion of my PLC and HMI consulting via WebEx, and several block of time options I recently released.
But for today I just wanted to post an update as to where I've been and what I've been doing, and as always you're invited to post any comments or questions.
Until next time, Peace ✌️ 
Shawn M Tierney
Technology Enthusiast & Content Creator
Have a question? Join my community of automation professionals and take part in the discussion! You'll also find my PLC, HMI, and SCADA courses at TheAutomationSchool.com.
Latest posts by Shawn Tierney
(see all)

PS – Not sure what everyone's hobbies are, but lately I've been into reading and writing about Sci Fi, Running, and more, and have included links to my "hobby" websites in the menu above 😉