If you know someone who would like to learn PLCs, I may have exactly what they've been looking for.
Not everyone is fortunate enough to work for a big company that will send them away for weeks at a time to formal factory training costing thousands of dollars.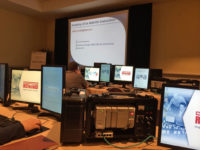 And while there are many self-study options out there, from computer based training, to self-teach books, to video courses, the majority of them cost hundreds if not thousands of dollars.
With that in mind, last year I set out to create an affordable step-by-step beginner's guide on how to use PLC's, and my video course, "Micro Programmable Controller Basics" is the result.
What make this PLC Basics video course different?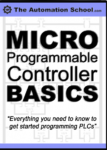 It's practical, it's actionable, and it's affordable.
If you (or the person you know) is like me, then you learn best not only by reading or watching, but also by DOING.
So when I decided to make my own course, I made the conscious effort to design all the lessons in a way that allows the viewer to follow along at their own pace.
I also had the goal of making it affordable, and in the end I decided this course would be priced under $50.
Update: Focused version of original course still available under $50!
However, for a limited time you can still pick it up for the introductory price of $29.97.
The focused two hour version of the original course is now available Digitally or on DVD as PLC "Core" Basics at TheAutomationSchool.com.
What do you cover in the course?
I start by introducing the viewer to what PLC's are, and the different styles and types they come in.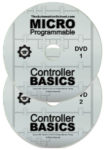 Then for those who want to work with an actual PLC, I introduce the most affordable MicroLogix programmable controller available, unboxing a unit and reviewing the installation documentation.
Next, I take the viewer step-by-step through how to get, install, and navigate the PLC programming software (RSLogix,) communications software (RSLinx,) and PLC emulation software (RSEmulate) provided free of charge thanks to the good people at Rockwell Automation.
From there I review basic concepts any programmer needs to know, including numbering systems, data types, program flow, and programming instructions.
Then for the majority of the course I lead the viewer step-by-step through how to write, download and test PLC programs with bit, timer, counter, compare, math, and file instructions.
And all these programming lessons can be done by the viewer using the free PLC emulation software, or the low cost MicroLogix mentioned above.
MicroLogix? Why that model and not something else?
Good question. The largest installed base of PLC's in North American is made up of PLC-5, SLC-500, and MicroLogix models, all of which use the same basic program elements and software that looks nearly identical.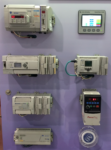 Additionally, the Ladder Logic instruction set used in the new CompactLogix and ControlLogix PACs is based on those previous models, so learning basic ladder instructions with the MicroLogix also prepares the viewer for using those same instructions in the newer PACs.
Most importantly though, the good people at Rockwell Automation make the programming and emulation software for the MicroLogix 1000 available free of charge (if you know where to look.)
Thess facts, along with the affordable price of my video course, now puts learning programmable controllers within anyone's reach.
What the course is not
I want to be entirely clear here: there's absolutely no Hollywood graphics or polished actors in this video course.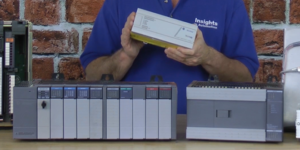 It also wasn't filmed in a fancy studio using expensive audio and video equipment.
It's just me, a workbench full of PLC's, and my many years of experience using them.
Want to know more?
If you think this video course would be helpful to someone you know, please take a moment and share the below link with them:
And if you have any questions about my course please don't hesitate to ask by using the "post a comment or question" link below.
Until next time, Peace ✌️ 
Shawn M Tierney
Technology Enthusiast & Content Creator
Have a question? Join my community of automation professionals and take part in the discussion! You'll also find my PLC, HMI, and SCADA courses at TheAutomationSchool.com.
Latest posts by Shawn Tierney
(see all)