---
Another Automation Fair Technical Session I attended yesterday was, "What's New in Studio 5000," and below I'll recap what I found most interesting about that session
---
First up was Logix Designer and a slide reminding us of the features found in the last release, v29.
High points include support for the new 5580 and 5380 controllers, as well as String Assignment Support and Add-on Profile bundles: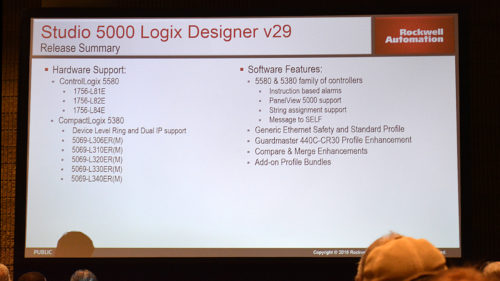 The "String Assignment" feature, which is a welcome addition that saves programmers from having to create tags just to store text strings, sadly seems to only to support the 5580 and 5380 as seen in the below slide: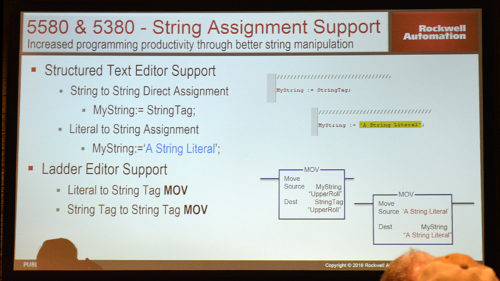 The Add-on Profile bundle install is also a very welcome new feature which allows users to quickly install all available device profiles without having to install the latest rev of Studio.
Rockwell also states the AOP bundle download does not require an active support contract: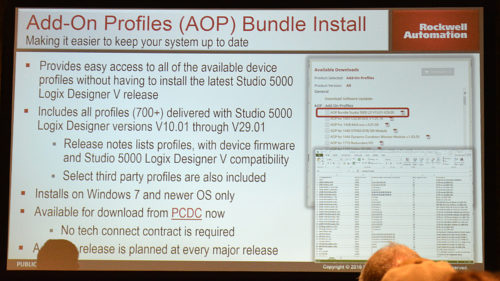 Next they moved on to version 30, which as you can see below adds support for additional hardware including the 5380 and 5480, as well as Windows 10 support and a new installer with a welcome "Install Now" option: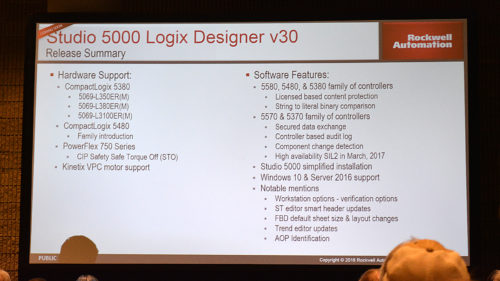 But what may be the most important new feature of v30 is the Component Change Detection feature seen below: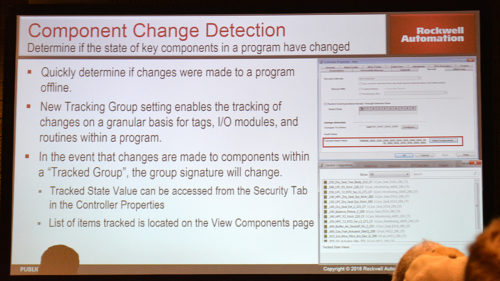 As far as the most welcome new feature, I believe it might be the ability to Import an Export modules from the I/O Config Tree.
In its first rev it's only planned to support a single module at a time, which is somewhat helpful.
However once this feature supports the entirety of the I/O Tree it will definitely become a very welcome productivity enhancement: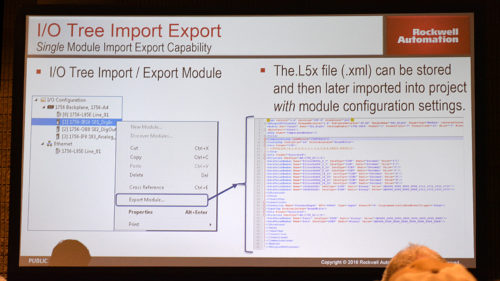 Once the presenter was done with Logix Designer, he moved on to discuss new features in View Designer.
I expect the most welcome addition will be the new Add-On Graphics feature, which in some ways is similar to Global Objects in View Studio: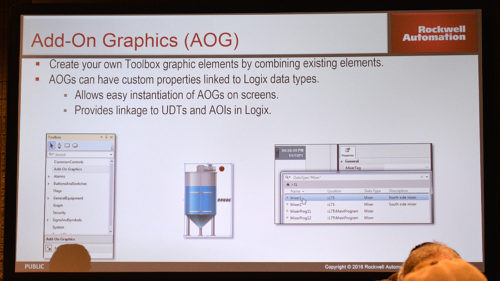 In addition to AOG, Rockwell also discussed Runtime Language Switching in View Designer, which works in conjunction with the language properties of Logix Designer's Extended Tag Properties and Alarm Messages: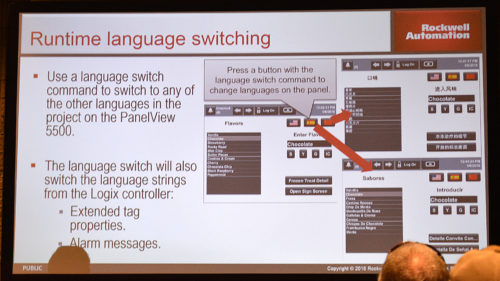 And those are what I considered the high points of the "What's New in Studio 5000" presentation.
If you have any questions please feel free to post them by clicking on "post a comment or question" below, and if I know the answer I'll be more than happy to reply.
And if you'd like to get a copy of the complete presentation it may be available later this week on www.AutomationFair.com. If not, your local Rockwell Automation Rep or Distributor Specialist should be more than happy to send you a copy.
Until next time, Peace ✌️ 
Shawn M Tierney
Technology Enthusiast & Content Creator
Have a question? Join my community of automation professionals and take part in the discussion! You'll also find my PLC, HMI, and SCADA courses at TheAutomationSchool.com.
Latest posts by Shawn Tierney
(see all)