---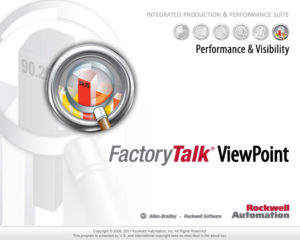 Many clients have asked me, "What is ViewPoint?"
Simply put, ViewPoint is an extension to FactoryTalk View Site Edition and the PanelView Plus which adds web server functionality to the FactoryTalk View project.
Web Client Compatibility
When Rockwell implemented ViewPoint, they did so as a Silverlight browser plugin that works well on computers running Microsoft Windows or Apple OSX.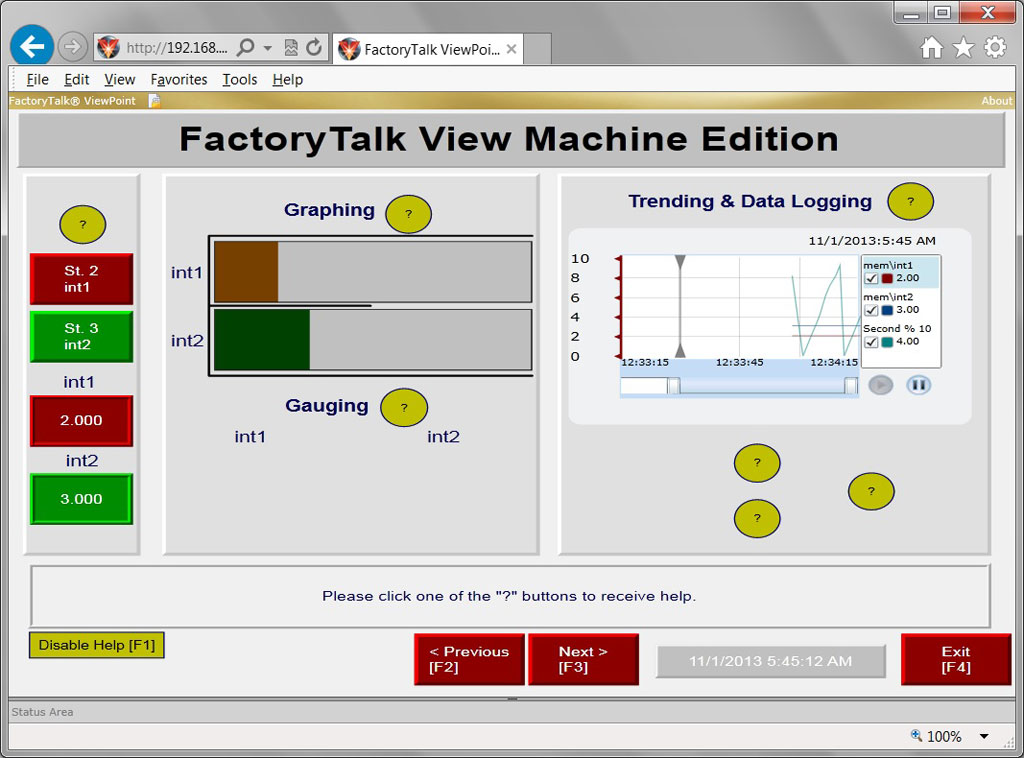 However, much like Adobe Flash, on release Silverlight was not supported on mobile devices. And a recent web search reviled that while there is much interest in getting Silverlight to run on Apple and Android mobile platforms, as far as I can tell not even Microsoft's own Surface RT tablet can run the Silverlight web browser plugin.
So for now, running a ViewPoint client is limited to Windows and OSX PC's, including tablet PC's like Microsoft's Surface Pro.
UPDATE 11-06-2017: In version 8.10, ViewPoint went from being a Microsoft Silverlight application to being a HTML 5 application. This change improved compatibility with browsers, operating systems, and devices that do not support Microsoft Silverlight.
That said, many users complained ViewPoint 8.10 was extremely slow, and one of the major features of ViewPoint 9.0 was a 50-70% speed increase in page loading on mobile devices.
ViewPoint on the PanelView Plus:
ViewPoint for the PanelView Plus is actually a free add-on.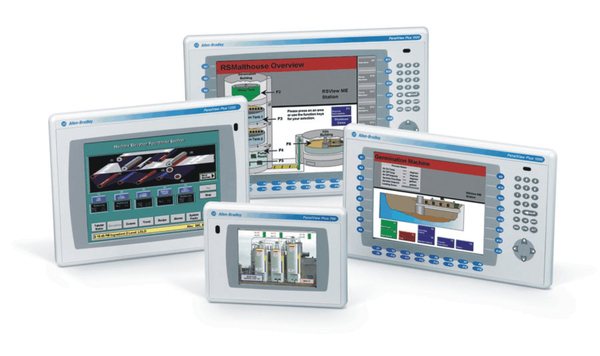 For early PanelView Plus models, you'll need upgrade the firmware to version 5.1 with ViewPoint. You'll also need to insure your PanelView Plus has at least 64mb of Flash memory and 128mb of storage space. For details on upgrading memory on old PanelView Plus models see this public Rockwell Technote #68098.
For PanelView Plus 6 models (700 – 1500) ViewPoint is already installed. Hopefully Viewpoint will also be released for the PanelView Plus 6 600, and PanelView Plus 6 Compact 600 and 1000 by the end of the year.
UPDATE 11-06-2017: Viewpoint is also compatible with the PanelView Plus 7 Standard and Performance.
ViewPoint on the PC:
ViewPoint for the PC is a chargeable add-on for FactoryTalk View Site Edition Station Runtime or Server. ViewPoint does not support Machine Edition Station Runtimes, which to me seems more like a marketing decision than a technical one.
The cost to add ViewPoint to your ViewSE system depends on how many client licenses you need. For a single client license it will run you $1,060.00 (9522-VWP01RENE, as of 11-01-2013) while three client licenses cost $3,180.00 (9522-VWP03RENE, as of 11-01-2013.) The ViewPoint server is included with these client packages, so those part numbers include everything you'll need to add the ViewPoint functionality to your ViewSE system.
ViewPoint in ViewStudio: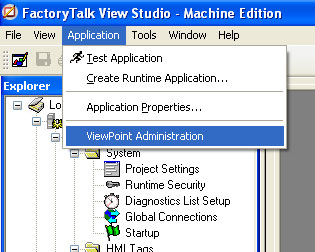 After obtaining ViewPoint for your PVPlus or ViewSE system, you'll also need to install the ViewPoint Administration software onto your ViewStudio  development system. This software can be freely downloaded from Rockwell's Product Compatibility and Download Center, however you'll need a support contract to do so.
Once installed, you access the ViewPoint Administration Console from within ViewStudio. It's found under the "Application" menu. Then it's a simple matter of chosing which displays will be published to the ViewPoint server, as well as choosing any security options.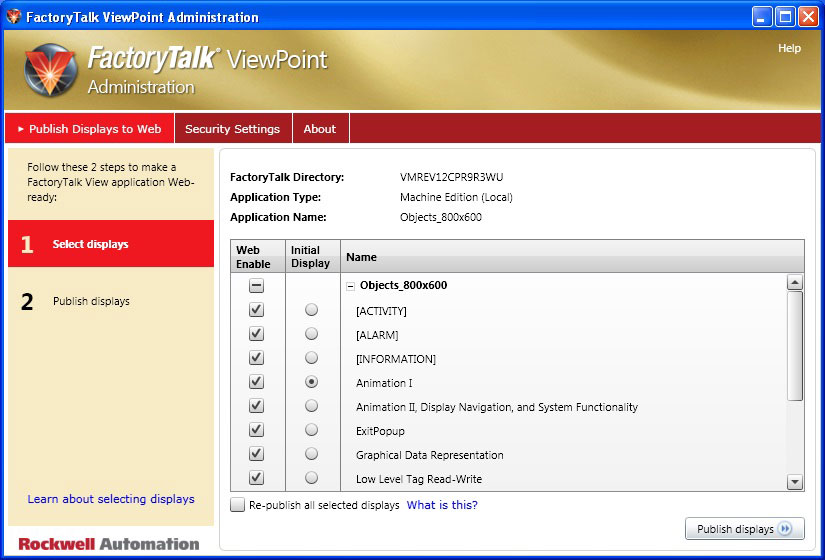 The ViewPoint Administration wizard is quite intuitive, and once you're done publishing your displays (with the PanelView Plus you also have to create and download a runtime file) you're ready to connect to your ViewPoint server with your PC's Web Browser. Note: Rockwell currently tests Internet Explorer 6 and 7 and Firefox browsers for use as ViewPoint Clients, however you may find other browsers work as well.
For more information on Rockwell's ViewPoint, please see the following two documents:
I hope the above explanation of what ViewPoint and how it works was helpful. Keep an eye on the blog in the coming days as I'll be posting the steps to publish a ViewME Runtime with ViewPoint. Until then, if you have a comment or question please don't hesitate to click on the "post a comment or question" link below.
Until next time, Peace ✌️ 
Shawn M Tierney
Technology Enthusiast & Content Creator
Have a question? Join my community of automation professionals and take part in the discussion! You'll also find my PLC, HMI, and SCADA courses at TheAutomationSchool.com.
If you found this content helpful, consider buying me a coffee here.
Latest posts by Shawn Tierney
(see all)