As I near the completion of my new course, ViewSE Basics, I wanted to post this reminder that the early access sale will be coming to an end on August 31st.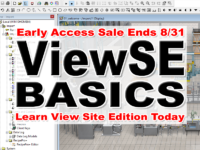 Until then, you can purchase my ViewSE Basics Online Course on sale for just $99.99, which is 50% off the final price!
And as a special bonus, everyone who enrolls in ViewSE Basics this month will also receive a second copy of the course video lessons hosted on Vimeo.com, which enables students to watch lesson videos offline using the free Vimeo mobile app!
Specifically what does your FactoryTalk View Site Edition online course cover?
The course currently consists of 45 video lessons spanning 9 hours and covers the following topics:
Overview of ViewSE, including hardware and software requirements
ViewSE in action: Reviewing sample applications
How to Restore Applications with two free bonus applications
Creating a Stand Alone Application from Scratch
Graphic Display and Object Basics
Testing your Application
Libraries Graphics and Symbol Factory Images
Tags, Objects, and Animations
Additional Objects, Display types, and Tags
Tag Substitution
Popups, Placeholders, and Parameters
Communications using RSLinx Classic to Free Emulator and PLC-5 (PLC code provided)
Communications using RSLinx Enterprise to SLC, MicroLogix, Compact and ControlLogix (PLC/PAC code provided)
Direct Referenced versus HMI Tags
Offline Browsing and Importing Tags
Creating a network of (free) emulated PLCs
Using Parameter Files with Tag Placeholders
Using the Command Line and Macros
More Graphic Display Objects and Animations
Creating your own buttons and switches
Using Global Objects
Creating Global Objects
Live Data Trends
File Set Datalogs, Historical Trends, and Trend Templates
ODBC Datalogs to MSSQL Server and Historical Trends
HMI Tag Alarms and Historical Logs
Alarm and Event Tag Alarms and Historical Logs
Alarm and Event Instruction Alarms
And more!
To see all the details, as well as enroll in my ViewSE basics online course, click HERE to go to the course's homepage.
Sincerely,
Shawn Tierney
Automation Instructor and Blogger
If you enjoyed my article, you may like my courses at TheAutomationSchool.com