---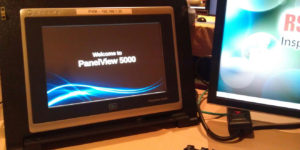 The PanelView 5000 was first previewed at Rockwell's Automation Fair 2011, but not much was being said about it at the time.
In fact so little was being said, they wouldn't even tell us the name of the software package which programmed it.
From Automation Fair 2011 to RSTechED 2012
Fast forward several months to RSTechED 2012, and I was one of the lucky souls to get a seat in the hands-on session with this new Allen-Bradley HMI.
It's been a couple of years since that session, but at the time the software seemed very stable, and I figured it would be released in mere months.
Oh, and about the software… it was integrated into what we now know as Studio 5000.
Today when most people here of Studio 5000 they think it's just version 21 of RSLogix 5000. But that's only the "Logix Designer." As we found out in the hands-on lab mentioned above, Studio 5000 will someday come with a "View Designer" which is what programs the PanelView 5000.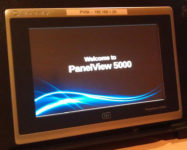 In 2012 we were told all "in support" owners of Studio 5000 would get View Designer free when it was released along side a new version of Logix designer. I was like "very cool." Yeah, that was until I noticed the price of Studio 500 has climbed drastically over the years. I guess nothing is ever free.
Back to the lab for a moment: One of the things that really impressed me was the replacement for the RSView/FTView animation system from 1995. The new View Designer system demonstrated in the lab lets you bind a tag to almost any property of any object. Think height, width, color, etc all bindable to the tag of your choice. Pretty cool stuff.
Beyond Automation Fair 2012
Shown again at Automation Fair 2012, the PanelView 5000 was really taking shape. The product line was slated to come out in two versions. The 5300 would be the standard version housed in plastic, and aimed at the OEM market.
The 5500 was to be the enhanced version. It was housed in metal, had more powerful electronics, and was aimed at high end applications.
At the time, rumor had the PanelView 5000 releasing the following year (2013.) As clients started repeating this rumor, I downplayed that timeframe stating it was so far in the future we really couldn't predict when the product would actually launch.
Unfortunately, my comments were truer that I thought.  Two RSTechED's and one Automation Fair later, and there's been no public signs or sightings of the PanelView 5000.
While I'm confident it's still in development, I think the very early previewing of the product combined with subsequent delays have put us in a position where we won't hear about it again publically until it's nearly shipping.
So, have you heard anything about the PV5000? If you have, I'd loved to here what – just fill out the "post a comment or question" link below to share what you know.
Until next time, Peace ✌️ 
Shawn M Tierney
Technology Enthusiast & Content Creator
Have a question? Join my community of automation professionals and take part in the discussion! You'll also find my PLC, HMI, and SCADA courses at TheAutomationSchool.com.