---
Late last week Rockwell Automation released its new Studio 5000 View Designer software used to create HMI applications for the PanelView 5500.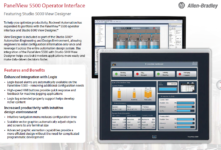 The recommended computer specs to run View Designer are the same as Logix Designer v27: Intel Core i5 processor, 8GB of RAM, and 20GB of Hard disk space.
View Designer also supports the same operating systems as Logix Designer v27: Windows 7 Pro (64bit) and Home Premium (32bit) with Service Pack 1, Windows Server 2008 R2 Standard with Service Pack 1, Microsoft Windows 8 and 8.1 Professional (64-bit), and Windows Server 2012 Standard.
What new features does View Designer have?
View Designer and the PanelView 5500 support the following features:
Studio 5000 Logix Designer Tags shared with View Designer
Logix extended tag properties supported in View Designer
Logix based alarms automatically available on PanelView 5500
High speed button control interacts with controller at I/O speeds
Pre-configured system banner, alarm summary, and diagnostic displays
State tables, Real-time Trending, and Alignment guides
Built-in graphic elements with advanced animations
Built-in navigation buttons and intuitive navigation menu
Flexible property binding and command actions
Scalable vector graphics automatically adjust to any size terminal
Download projects easily without needing separate utility
What limitation does View Designer have?
Rockwell has listed the following limitations for the initial release of View Designer and PanelView 5500:
One controller per project
Controller must use Logix V27 firmware
No historical trending
Fifty screens maximum per project
Five hundred alarms maximum per project
For more information on View Designer, and to view the official product release notes, search Rockwell's "versions" webpage for Studio 5000 View Designer, and then select the PDF icon near the version number as seen below:


---
So, what do you think of View Designer so far?
Is the lack of historical trending, multiple PLC support, or compatibility with versions other than v27 something that would prevent you from using the product?
Let us know what you think by filling out the "post a comment or question" link below.

Until next time, Peace ✌️ 
Shawn M Tierney
Technology Enthusiast & Content Creator
Have a question? Join my community of automation professionals and take part in the discussion! You'll also find my PLC, HMI, and SCADA courses at TheAutomationSchool.com.
Latest posts by Shawn Tierney
(see all)