---
In Monday's article here we discussed what appeared to be the premature outing of a new ControlLogix 1756-L85E processor with built-in 1GB Ethernet port.
That news brought up the question, do ControlLogix users want processors with built-in Ethernet?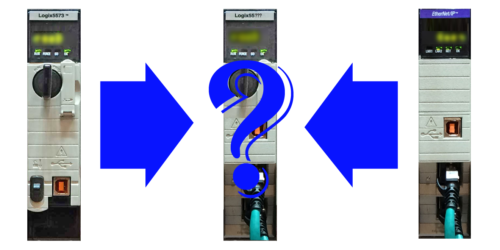 At first glace, the obvious answer would be a resounding "YES!"
But, could there be any downsides to having your Ethernet port built-in?
With that question in mind, today we look at three things that may determine if having an integrated Ethernet port is right for you.
---
1) Cost
Typically, having items integrated is less expensive then buying them separate.
However, we don't actually know yet if the cost of the L85E is less than an L75 and an EN2T combined.
Will the L85E have more features and functions that the L75, thereby making the processor more expensive?
Or, is the L85E the same as the L75 but with an embedded Ethernet port similar in features to the EN2T, and thereby less expensive?
2) Performance
The current batch of 1756 Ethernet modules are pretty beefy cards, sporting sizable heat sinks and are seemingly much heavier than older models.
With that said, is it really possible that Rockwell could squeeze all the same performance of today's newer 1756 Ethernet modules, as well as 1GB Ethernet support, into the same slot as a next generation processor?
Or perhaps, in order to get both processor and Ethernet card into one slot was something left out?

3) Commonality
Today, many ControlLogix systems utilize multiple Ethernet communication modules, and system designers typically use the same Ethernet module throughout the system to insure commonality of features and function.
However, in future systems if one of the Ethernet ports is built-in to the processor will this mean sacrificing commonality of capabilities between all Ethernet communications ports?
---
So, what do you think? Should ControlLogix processors come with Ethernet ports, and are any of the above concerns valid?
Let us know what you think by sharing your thoughts in the "post a comment or question" link below.
Until next time, Peace ✌️ 
Shawn M Tierney
Technology Enthusiast & Content Creator
Have a question? Join my community of automation professionals and take part in the discussion! You'll also find my PLC, HMI, and SCADA courses at TheAutomationSchool.com.