---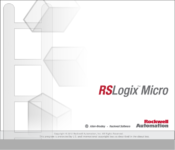 I recently was informed that RSLogix Micro Starter is now available for purchase as an electronic download.
For those who don't know, RSLogix Micro Starter is a roughly $140 Rockwell Software package which programs all of Rockwell Automation's MicroLogix PLC's.
Note: The programming software for the MicroLogix 1000 and 1100 is available from Rockwell as a free download – more details in this article.
Prior to this change, as I documented in this article, when you ordered a copy of this software you would receive an email to download it as well as be shipped a physical copy.
Now though, if you order the software you will only received the email to download a copy.
From my own experience I can say that the download links you receive in the email include not only the most current version available when you purchased the software, but also include several prior versions as well.
And also from my own experience, the links in the email do not seem to expire over time (but I wouldn't count on that…)
So what do you think? Would you prefer a hard copy of the software or is download only fine? Please feel free to share your thoughts with us by filling in the "post a comment or question" link below.
Sincerely,
Shawn Tierney
Automation Instructor and Blogger

If you enjoyed my article, you may like my courses at TheAutomationSchool.com
Eliminate Ads and get Free Downloads by becoming a Patron here
Have a news tip? Share it with us here
Shawn began sharing automation news and know-how online in 1996 when he launched his first BBS. Then in 1999 he moved to the internet launching ShawnMichael.com, which he later renamed ShawnMTierney.com. In 2013 he moved his automation efforts to a new website, TheAutomationBlog.com, which has since become the most popular independent industrial automation blog on the web.
Latest posts by Shawn Tierney (see all)
Click HERE to scroll down to view or leave comments