This week a lot of readers made use of our "submit a question" link to send us topics they'd like to see us cover, and today I'll share a few of them along with my take on how to resolve each question.
Note: Readers can ask submit questions directly to me at Automation.Locals.com, or submit them here on the blog if they'd like us to consider covering them in future Q & As.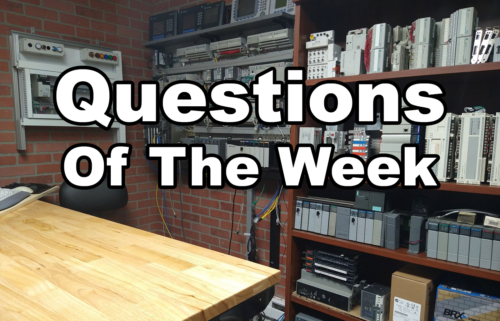 ---
Question:
Recently I was working for a PanelView Plus project, and I am getting the below error while restoring an .MER project to FactoryTalk ViewStudio:
"Unable to load Activex control for display DatastorePlus.
Medatastore Plus-newer file version of activex control required."
We typically see this error when we try to open a Graphic Display in ViewStudio that has objects on it that are newer than the ones we have installed.
One way this can happen is when the person creating the Graphic Display has first installed an update, aka Patch Roll-up, which in turn has updated components and controls used in the project.
In this specific case, I'd suggest installing the latest version of the free DataStorePlus ActiveX, which you should find comes in the latest patch roll-up for your version of ViewStudio.
This free tech note has links to most of the Patch Roll-ups in question.
---
Question:
Where could I find the initial release dates of 1756-L83E, 1756-EN2TR, 1756-EN2T, 1794-AENTR, 1783-ETAP1F and 1794-IB10xOB6/A?
While Rockwell does a good job of identifying product Life Cycle Status here, I don't know of a good way to find when a product was actually released.
Probably the best option is to look at the release notes for the earliest firmware version here.
For instance, the earliest firmware I can find for the 1756-L83E is dated 11/2015, which matches what I had previously blogged about the L83E being released for sale in December 2015.

Question:
We have an issue. Two days ago we cycled power on a redundant rack and 4/5 comm cards came up in 'test'. A little investigation revealed Rockwell KB BF18065, which basically says 'never cycle power' if your comm cards are in this date range.
The date correspond nicely with our original build so we may have over 100 cards in this category. Unfortunately we did not record serial numbers or born on dates. So we are looking for a way to gather this information efficiently and Rockwell System Ferret came up.
We are concerned about how much load this will put on our peer to peer network which handles process data and wanted to talk to someone that has used it at least a few times.
We have our RSLinx drivers split up so there is no more than ~30 per driver and it looks like we could do it one driver at a time instead of the entire 200+ device network.
I've written about System Ferret previously here, however I'm not sure it's still available to download?
That said, if you do get a copy of it I think once you open and use the utility you'll find you can scan a single chassis at a time (if I remember correctly.)
---
Question:
Can I have Compact GuardLogix Safety Controller use Safety Remote I/O modules such as FLEX I/O 5000? Or is this Flex I/O 5000 restricted to CompactLogix 5380 and not to Compact Guardlogix 5380?
To find out I had to look it up in the Flex 5000 Users Manual here, in which Table 1 shows that Flex5000 Saftey I/O is (only) compatible with the GuardLogix 5580 and 5380.
I'm honestly not sure why the 5370 and 5570 GuardLogix models wouldn't be supported, but at least it sounds like you're in good shape.

Question:
Do you happen to have the 24.052 redundant firmware revision for Contrologix?
AB has "retired" it and I can't find the firmware so that I can go online with the controller.
This question actually leads to a bigger question that gets asked quite a lot, and I cover it in detail in my ControlLogix course.
The way it works is, only the Major Rev of Studio 5000 and ControlLogix controller firmware need to match. In fact, it's nearly impossible to match the minor revs.
So to be up-to-date, you just need to download the latest version of Studio 5000 v24 from Rockwell, and once installed (and activated) you'll be able to connect to any ControlLogix and CompactLogix controllers no matter what version of v24 firmware is installed.
That said, you probably wouldn't want to load old firmware or software since Rockwell often retires them when there is a know issue with that particular revision.
---
If you'd like to see our previous Q & A's, click here.
To submit a question for us to consider covering in a future blog, click here.
Those readers who'd like to ask me questions directly, can do so here.