---
Plug and Play comes to the world of Allen-Bradley Industrial Automation.
With a fairly recent copy of the free RSLinx Classic Lite, and A-B devices with USB ports, you simply plug the A-B USB product into your PC using a standard USB cable, and RSLinx automatically adds a driver to connect to the device.

This might not seem like magic to PC users, who can plug a new mouse into their PC and Windows automatically enables it. But for A-B PLC users this is a giant step forward from the way things have been the last 25 years.
Back in the late 80's and early 90's as personal computers became affordable, software began to appear to program PLC's.
At first, most connections were of a serial type, and to use these connections to program PLC's users needed to know a handful of serial port settings like the baud rate, parity, number of stop bits, error checking method used, etc.
Not really a challenge, well until someone changed the device from it's defaults  without informing you, leaving you with guessing which setting they changed.
Then there was the multitude of serial cables used for different products. Nine Pin versus Twenty Five Pin, and wiring for DTE to DTE vs. DTE to DCE (e.g. "straight through" versus "cross over.")
And even today with our Ethernet only devices we still need our Boot-P utility, and to be sure we set the device with an IP address on the same "subnet" as our PC and other devices on the network.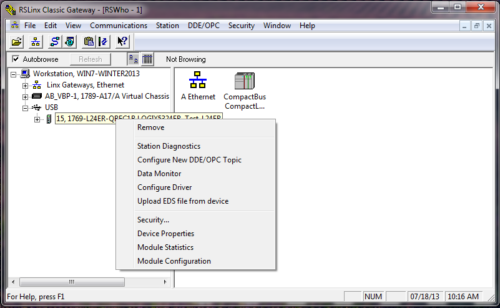 But with the advent of A-B's USB enabled products connecting has truly become "plug and play."
Step one is to insure you have a version of RSLinx Classic Lite which supports the product you are about to plug in.
To be on the safe side you can grab the latest copy for free here.
Once it's installed, you simply plug in the USB device and wait for windows to install the device driver automatically.
If prompted by windows, just select "install device automatically" or similar prompting for your version of windows.
Once completed, you can open RSLinx Classic Lite to find your USB driver automatically added. Select and expand it in the RSWho network browse windows and you'll see the device you have connected.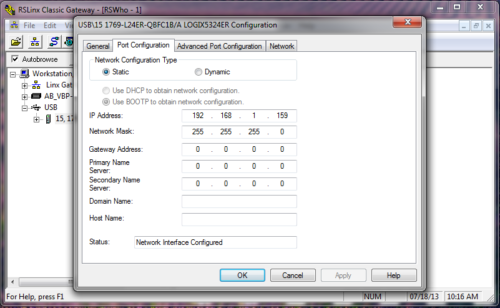 Once connected, you can also easily set the IP address of your device (if equipped) right from RSLinx without the need to run the Boot-P utility.
First, browse to the device you connected in the RSLinx RSWho window.
Next, right click on the device (or on the devices Ethernet card if it's listed separately under the device) and select "module configuration."
This will open a tabbed dialog box, and the tab we want is labeled "Port Configuration."
Click on that tab, fill in your devices IP address and Subnet mask, and then press Apply and OK.
At this point your device should now have am IP address, all without having to launch the Boot-P utility!
While my recent experiences with A-B USB devices have been plug and play, I would also like to hear what you think. So if you have any thoughts on the ease of using A-B's USB devices please share them below using the "post a comment or question" link below.
Until next time, Peace ✌️ 
Shawn M Tierney
Technology Enthusiast & Content Creator
Have a question? Join my community of automation professionals and take part in the discussion! You'll also find my PLC, HMI, and SCADA courses at TheAutomationSchool.com.
If you found this content helpful, consider buying me a coffee here.
Latest posts by Shawn Tierney
(see all)
December 5 News: 50kg Robot, Ex Tablet, IOLink, Ethernet-APL, MQTT QOS, Logix/View Docs & more (N150)

- December 5, 2023

November 30 News: TIA Portal v19, Productivity Suite 4.1, Industrial Strip Light, OPC Pub/Sub & more (N149)

- November 30, 2023

MOXA's New Industrial Computers (P181)

- November 29, 2023