Over the last few years, some of the most popular articles here on The Automation Blog have been those about Allen-Bradley's PanelView Plus HMIs.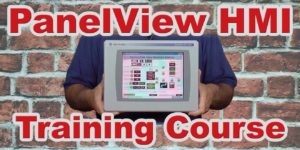 Update: PVP Basics Course now available at TheAutomationSchool.com.
Not only are the articles popular, but the most asked question in article comments also seem to be about the PanelView Plus.
Which brings me to the purpose of this article, and the question I ask in the below video: Do you see a need for an affordable PanelView Plus training course, and if you do what topics would you like to see covered in it?
So, if you do think there is a need for an affordable PanelView Plus training course, please consider visiting our
PVP Basics Course
page and sharing your thoughts and suggestions with me.
And in appreciation for your time and feedback, I'll send you a 50% coupon off the price of my PanelView Plus course when it's published.
Sincerely,
Shawn Tierney
Automation Instructor and Blogger

Enjoy the benifits of membership! Insider news, rewards, & more: Patreon.com/automation
If you enjoyed my article, you may like my courses at TheAutomationSchool.com
Have a question on this topic? Click here to scroll down to the comment link
Have a news tip? Share it with us here
Shawn began sharing automation news and know-how online in 1996 when he launched his first BBS. Then in 1999 he moved to the internet launching ShawnMichael.com, which he later renamed ShawnMTierney.com. In 2013 he moved his automation efforts to a new website, TheAutomationBlog.com, which has since become the most popular independent industrial automation blog on the web.
Latest posts by Shawn Tierney (see all)
Click HERE to scroll down to view or leave comments