Recently a client asked how he would go about editing a PanelView Plus .MER file his customer had sent him.
Unfortunately there' no simple answer to this question, so in today's article we'll cover the basic steps you need to take to extract ViewStudio projects from ME runtime files.
Converting a version 5.0 or greater .MER runtime file back into an editable project
If you're using FactoryTalk ViewStudio 7.0 on Windows 7 64 bit, and your .MER is version 6.1 or 7.0, then you're in luck. As long as the file was created to allow "conversion," and you either know the password or there isn't one, then it's as easy as running Rockwell's Application Manager and choosing, "Restore runtime application."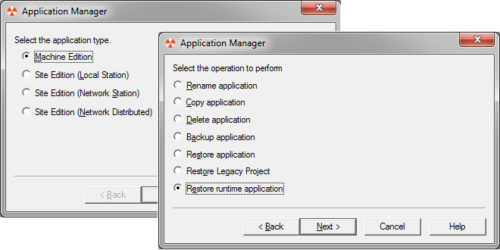 However, if the .MER runtime file is a version 5.0, 5.1, or 6.0, you're going to need a 32 bit Windows OS with ViewStudio installed in order to restore the runtime application.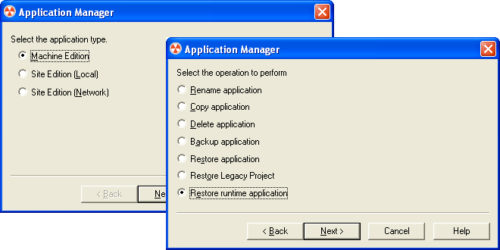 If you want to take that version 5.0-6.0 application and use it on Windows 7 64 bit, you'll first need to download the "Legacy Tag DB Tool" and export the Tag DB (check back Wednesday for a article on this subject.)
Recovering pre-version 5.0 .MER runtime file
If your MER file is older than version 5.0, well there is no easy answer. ME Runtime files prior to 5.0 were not designed to be recovered back into a project, and the following procedure won't recover 100% of it's contents.
The first step in the process of recovering a pre-5 .MER file is to load it into ViewME Station on a 32 bit Windows OS, the most common of which is Windows XP.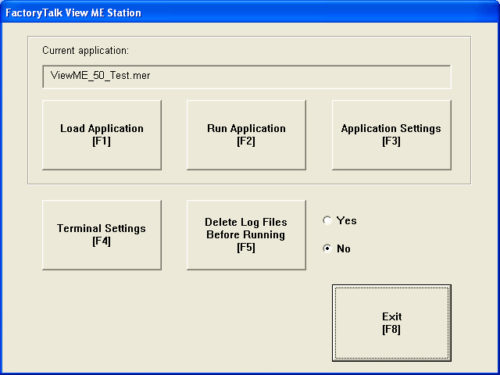 NOTE: Most projects won't "load" in the "free" demo version of ViewME Station runtime that comes with View Studio. That version is limited to projects with 5 or less graphic displays.
If you don't actually own a ViewME Station Runtime license, you'll either need to be in the 7 day grace period (more on that HERE) or you'll need to obtain a 30 day temporary license from your local Rockwell office or authorized distributor (more information on this HERE.)
When you do load (do not run) the MER file into ViewME Station Runtime, the software extracts the MER file's contents into a hidden temporary folder.
This hidden folder is typically found under "Documents and Settings\User Name\Local Settings\Temp," although the exact path changes slightly from OS to OS.
The name of the hidden folder the MER runtime get's extracted to is typically "~MER.00."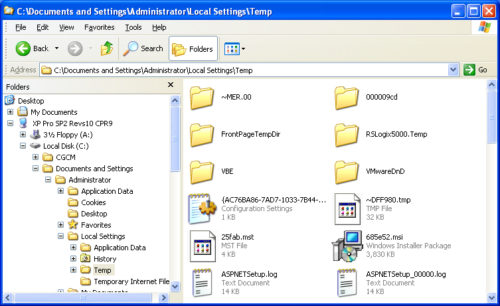 To recover this project, you should first copy the entire ~MER folder to a more accessible and less temporary location. Then, open View Studio ME and choose "new," then "import," and then select the .MED file inside the ~MER.00 folder.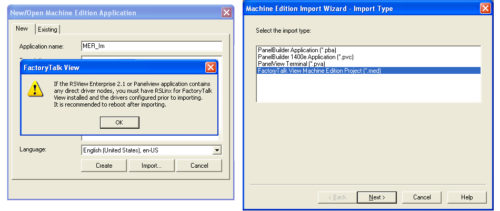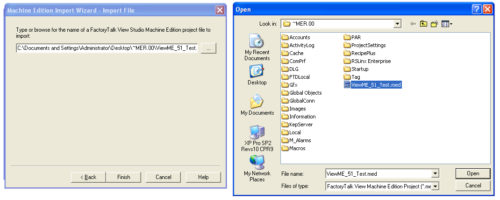 The above process will import the extracted .MER file contents into your new project. It will contain the original graphic displays, tags, and many other parts of your MER runtime. However, text heavy parts of the project like Alarms, Parameters, and Macros, as well as the RSLinx Enterprise (or other) communications setting, will not be successfully recreated.
NOTE: You can find the RSLinx settings in the ViewME Station Runtime software under Terminal Settings, Network and Communication Settings.
Additional Reading
For more information on this subject check out the following Rockwell Knowledgebase documents:
I hope you found the above article about editing MER files helpful. If you have any comments, questions, or corrections please don't hesitate to leave them by filling in the "post a comment or question" link below.
Sincerely,
Shawn Tierney
Automation Instructor and Blogger (post views: 65,864 views)
Enjoy the benefits of membership! Patreon.com/automation
Check out my affordable courses: TheAutomationSchool.com
Ask me questions by clicking here to go to the comments link
Have an industrial automation news tip? Share it with us here
Latest posts by Shawn Tierney
(see all)
Click HERE to scroll down to view or leave comments