Connected Components Workbench (CCW) version 7.0 added some much needed features when it released back in September of 2014.
One of those welcome features was a context-sensitive device menu for accessing common tasks.
In today's article, I show you how to use that menu to change the controller type (aka Micro800 model) of an existing program in just three easy steps.
---
Step 1) Open Micro800 project, right click on controller and select change
The first step is to open your Micro800 project in Connected Components Workbench (CCW) version 7.0 or 8.0.
Once open, right click on the Micro800 controller which is found at the top of the Project Organizer on the left of the screen.
Now from the right click menu choose "Change Controller" as seen below: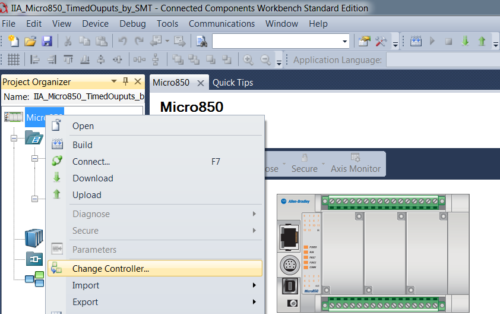 NOTE: The change controller feature in CCW version 7 and 8 does not support the Micro810. To work around this, export your Micro810 project and them import it into a new project setup for the new controller you wish to change to.
Step 2) Choose new controller and click Ok
Once step one is complete, you should see a "Controller Change" popup  window.
On the left side of this window you should see a dropdown list for the "Target" "Controller Type."
To continue, click on the drop down list and select the Micro800 controller you would like your program changed to, as seen below: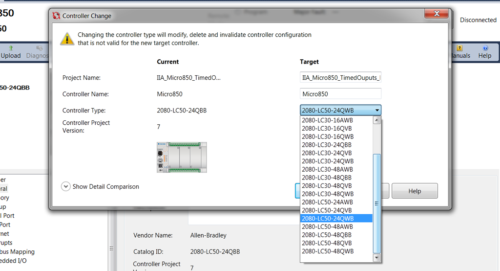 NOTE: If you are using CCW version 7, the "change to" version will be 7. If you are using CCW version 8, the "change to" version will be 8.
Step 3) Verify change was successful
After a few moments you should see a popup window displayed at the bottom of CCW.
Inside that window you should see a message stating the "Controller Change" was successful, as seen below:


---
I hope you found the above article about how to change a Connected Components Workbench's controller type helpful.
If you have any comments or questions please feel free to share them by using the "post a comment or question" link below.
Sincerely,
Shawn Tierney
Automation Instructor and Blogger

If you enjoyed my article, you may like my courses at TheAutomationSchool.com
Eliminate Ads and get Free Downloads by becoming a Patron here
Have a news tip? Share it with us here
Shawn began sharing automation news and know-how online in 1996 when he launched his first BBS. Then in 1999 he moved to the internet launching ShawnMichael.com, which he later renamed ShawnMTierney.com. In 2013 he moved his automation efforts to a new website, TheAutomationBlog.com, which has since become the most popular independent industrial automation blog on the web.
Latest posts by Shawn Tierney (see all)
Click HERE to scroll down to view or leave comments