In 1998, Honeywell introduced the Experion Process Knowledge System (EPKS) C200 Controller.
This was a much different system than the TDC 3000 DCS that was released in 1985, and created a much more "open" platform for integration with other products and vendors.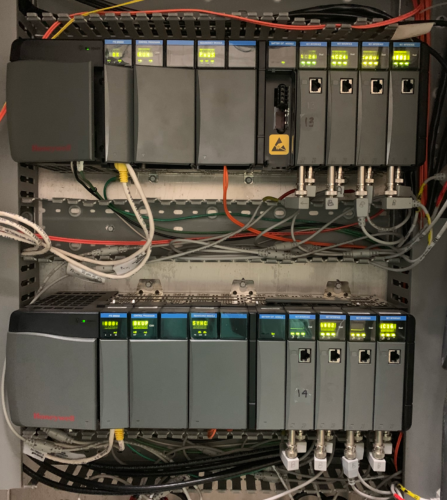 Image by Brandon Cooper: Honeywell C200
The C200 stayed in operation until its end of life in 2019, and even though some support still exists, you cannot buy a new controller.
This created the need for many to find an upgrade path forward, and today we'll take a look at the features of the two paths Honeywell offers today (C300 & UOC.).
Features that the C300 and UOC controllers both support:
Run the Control Execution Environment (CEE)
UOC and C300 can talk peer to peer with one another
Redundant Controllers
Series A I/O & DeviceNet
FTE Communication to Layer 2 Switches
Features that Only the C300 Controller Supports:
Supports PMIO (TDC 3000 series I/O)
Redundant I/O
Features that Only the UOC Controller Supports:
Retain Downlink ControlNet to Series A I/O
Virtual Controller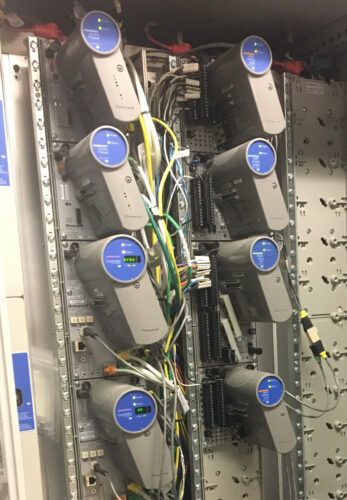 Image by Brandon Cooper: Honeywell C300
Other Considerations
Remote I/O Communication Differences: Both the C300 and UOC will communicate with series A I/O in different topologies

C300: Places Honeywell FTEB modules in remote downlink chassis with FTE communication to a CF9 Firewall
UOC: Places Rockwell 1756-EN2TR modules in remote downlink chassis with DLR network topology

Series A I/O Replacement: Beginning with Release R432, Honeywell allows the replacement of Series A I/O with Rockwell 1756 I/O. By 2022, the standard replacement for all series A I/O will be Rockwell 1756 I/O modules.
Series A I/O Footprint: Uses the same footprint as Rockwell's ControlLogix, so the same chassis and power supplies are interchangeable with 1756 models.
Conclusion:
If you have a large install base of Honeywell C200 controllers, you most likely know that they are at end of life and parts will be made from un-obtain-ium as time goes on.
As you plan your migration or upgrade path, hopefully this will give you some things to ponder. The best fit for upgrade will most likely lie in what type of I/O the C200 controller is controlling.
If you have PMIO, then no doubt, you will be going to a C300. If you have only Series A I/O, then the UOC with DLR might be the way you would want to proceed.
Another consideration is the other systems in the mill and the spare parts that you want to keep.
My best to you in your planned upgrades ahead.
Written by Brandon Cooper
Senior Controls Engineer and Freelance Writer
Have a question? Join our community of pros to take part in the discussion! You'll also find all of our automation courses at TheAutomationSchool.com.
Sponsor and Advertise: Get your product or service in front of our 75K followers while also supporting independent automation journalism by sponsoring or advertising with us! Learn more in our Media Guide here, or contact us using this form.