---
Welcome to The Automation Blog's "Flashback Friday!"
Today I'm highlighting my "RSView32 Reporting Hands-On Labs" document covering several different ways to create reports in RSView32.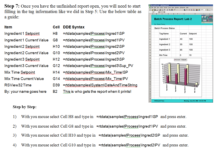 In 2001 clients often asked how to create reports using RSView32. But, with several unique options available, it could be a challenge to determine which was the best fit.
With that in mind, in early 2002 I held a small "RSView32 Reporting Hands-on" workshop in which a dozen clients walked through several different means of creating Reports in RSView32 (I even had a printer setup so they could print each report.)
After the hands-on session I made my step-by-step lab document available online, and which you can now find HERE on The Automation Blog:
If you have any questions, comments, corrections, or suggestions please don't hesitate to share them with us by using the "post a comment or question" link below.
Sincerely,
Shawn Tierney
Automation Instructor and Blogger

Enjoy the benifits of membership! Insider news, rewards, & more: Patreon.com/automation
If you enjoyed my article, you may like my courses at TheAutomationSchool.com
Have a question on this topic? Click here to scroll down to the comment link
Have a news tip? Share it with us here
Shawn began sharing automation news and know-how online in 1996 when he launched his first BBS. Then in 1999 he moved to the internet launching ShawnMichael.com, which he later renamed ShawnMTierney.com. In 2013 he moved his automation efforts to a new website, TheAutomationBlog.com, which has since become the most popular independent industrial automation blog on the web.
Latest posts by Shawn Tierney (see all)
Click HERE to scroll down to view or leave comments