Welcome to part eight of the nine part series covering my choices for the top new PLC and HMI products shown at Rockwell's Automation Fair 2017.
Note: While this series covers the products in which I'm most interested, you'll find all the new products listed in Rockwell's guide HERE.
The New CompactLogix 5480: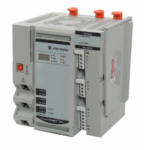 Due out in July 2018, Rockwell describes its 5480 as both a CompactLogix Controller and a Windows 10 Industrial Computer.
On the Controller side, the 5480 supports up to 31 local Compact 5000 I/O modules, as well as distributed I/O using two of the three on-board Gigabit Ethernet ports.
On the Computing side, the commercially available CPU runs Windows 10 IoT Enterprise.
This enables users to run third party applications on the same hardware their control programs run on, and high speed access to the CompactLogix's memory is provided via built-in RSLinx OPC comms.
The Computing side also has a dedicated Gigabit Ethernet port, and two USB 3.0 ports.
To learn more, check out Julie Robinson's video below:
2021 Update: The below video is no longer available.
So what do you think?
Do you need a CompactLogix / Industrial PC combo?
Please feel free to share your thoughts with us by clicking on the "post a comment or question" link below.
Until next time, Peace ✌️ 
Shawn M Tierney
Technology Enthusiast & Content Creator
Have a question? Join my community of automation professionals and take part in the discussion! You'll also find my PLC, HMI, and SCADA courses at TheAutomationSchool.com.
If you found this content helpful, consider buying me a coffee here.
Latest posts by Shawn Tierney
(see all)
December 5 News: 50kg Robot, Ex Tablet, IOLink, Ethernet-APL, MQTT QOS, Logix/View Docs & more (N150)

- December 5, 2023

November 30 News: TIA Portal v19, Productivity Suite 4.1, Industrial Strip Light, OPC Pub/Sub & more (N149)

- November 30, 2023

MOXA's New Industrial Computers (P181)

- November 29, 2023